The first market of its kind, located next to Burj Khalifa, showcases 17 homegrown food products
Time Out Market, the world's first food and cultural Market based on editorial curation, today throws open the doors of the highly anticipated Time Out Dubai In partnership with Emaar Malls, the market welcomes all. Located in the beautiful Souk Al Bahar, the Market offers an incredible taste of the city featuring 17 of Dubai's award-winning chefs and restaurateurs, home-grown local favourites, three stunning bars, as well as vibrant cultural and entertainment spaces. For the weekend, diners will be able to enjoy the lively atmosphere between 12pm and 1am every day and Thursday through Friday.
A selection of VIP guests were invited last night to experience the Time Out Market Dubai experience before the general public. The Market was open to all guests, and they were required to take safety precautions. The moment was celebrated with the Burj Khalifa illuminating Time Out Market Dubai's opening story in lights for everyone to see. Four local artists, Tashkeel, were also present, and created bespoke artwork which captured the heart of the city. These works by Mike Arnold (architectural painter), Pierre Firas Abboud (sculptor), Chie Nakano (figurative artist) and Victor Sitali (illustrator and artist), will all be displayed in the Market over a month to allow visitors to enjoy them during Ramadan.
Time Out Market Dubai now welcomes visitors and residents to enjoy a variety of delicious cuisines from this star-studded lineup, carefully curated by Time Out Dubai editors. A selection of local, innovative ideas has been selected. MASTI, BB Social Dining, Vietnamese Foodies, Pickl, Pitfire, Brix from 3fils, Nightjar, Reif Japanese Kushiyaki, Little Erth, Scoopi Café, Lang TengAnd Al Fanar. Time Out Market Dubai also will feature five new, innovative concepts. folly Workshop by Nick & Scott, Fulvio's, Project Chaiwala – Two Leaves, The Mattar Farm produces local fireAnd Liban by Allo Beirut.
Time Out Market Dubai, the UAE's largest and most unique culinary and cultural destination, is the best. It covers 43,000 square feet. The outdoor terrace wraparound overlooks the Burj Khalifa, Dubai Fountain, and offers stunning views. Three bars surround the small, intimate and fully licensed concessions. Steps away is the Fountain Bar, while the 13-metre Atrium Bar has the largest selection of grapes. Meanwhile, guests can unwind and recharge with a mocktail from the Palace Bar. Guests have a wide variety of drinks to choose from including original mixed drinks inspired by global Time Out Market locations – from Lisbon to New York, Chicago, Miami, Boston and Montreal.
The Market's design is as impressive as the food itself, with elements such as high terracotta columns framing the lofty interiors and reflecting a modern spin on a traditional Middle Eastern marketplace. Atrium diners can enjoy natural light from the dramatic glass ceiling. It also offers a glimpse at Burj Khalifa. Meanwhile neon art displays reflect the urban landscape and artfully contrast with the overall aesthetics, replicating the grain and colour of the city's sandy shorelines. The Market's unique mural, created by Tarsila Schubert, an UAE street artist and Brazilian native, will captivate those who visit it. Tarsila, a female artist who painted a Wall in Amman (Jordan) in commemoration of the FIFA Women's World Cup is well-known.
Didier Souillat is CEO Time Out Market. "We are thrilled to reveal that Time Out Market Dubai is now officially open to the public. With our incredible line-up home-grown chefs and restaurateurs, we set out to make Dubai the most vibrant city in the world. Time Out Dubai's extraordinarily talented editors know the city well and can recommend what restaurants and cultural attractions are worth a visit. Alongside Emaar and the incredible Souk Al Bahar building, we have created a completely unique concept in the heart of Downtown Dubai."
Time Out Market Dubai exceeds all safety and health standards, without sacrificing the unique experience that makes it special. It is now able to operate indoors at 50%, in line with government guidelines. The latest innovations in air circulation technology have been installed. There are dedicated cleaners on site, as well as sanitisation stations near the doors. All bars and eateries have plexiglass shields. To promote proper social distancing, artfully designed glass dividers are placed on the communal style tables, inscribed with interesting facts and anecdotes that reveal Dubai's unique character. The Time Out Market app supports contactless payments in English and Arabic.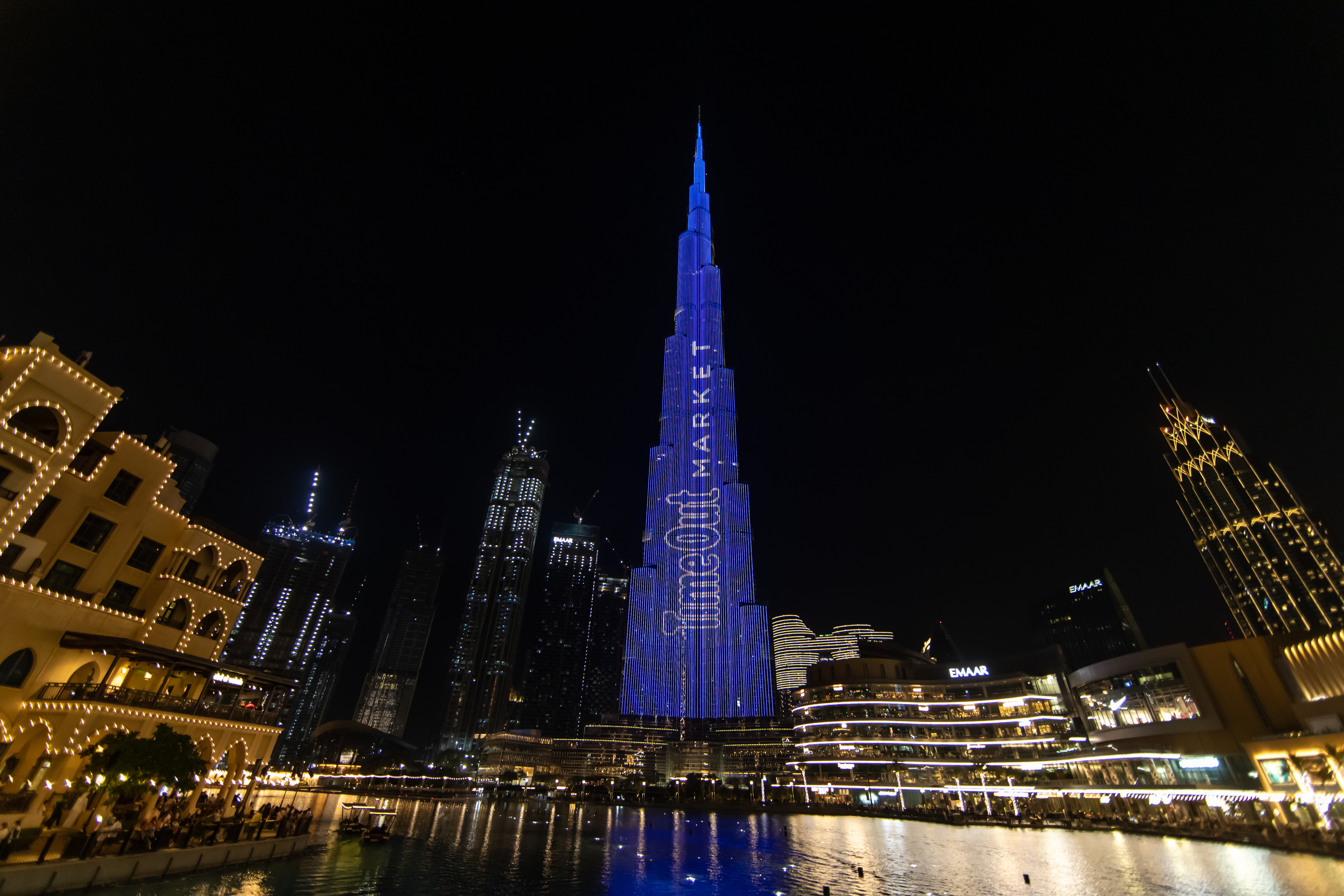 Time Out Market Dubai's full line-up of 17 concept companies includes:
MASTI
MASTI, the award-winning cocktail bar and restaurant, infuses modern with tradition and colour with flavour, creating an expression of 'New India'. At Time Out Market Dubai, MASTI offers mouth-watering combinations of Indian food with global influences including spicy lamb scotch eggs, chipotle paneer and burrata butter chicken.
BB Social
BB Social Dining offers a distinctive homegrown experience with a modern Eastern-inspired menu that features fresh, delicious dishes for all taste buds. At Time Out Market Dubai BB Social will focus on "Bites and Bao", presenting signature dishes including the habibi (short rib bao), habibiti (soft shell crab bao), cauliflower popcorn with truffle tofu sauce, and its renowned wagyu katsu with tonkatsu mayonnaise.
folly Workshop
folly by Nick & Scott, in association with Gates Hospitality, brings outstanding European cuisine to Time Out Market Dubai. The brand-new concept, 'folly Workshop', serves up exciting dishes including, 24-hour braised sticky beef ribs, crispy hens egg and battered British haddock.
Vietnamese Foodies
Vietnamese Foodies will be bringing the cultural diversity of Ho Chi Minh City and Time Out Market Dubai to diners, taking them to bustling street life in Southern Vietnam where they can enjoy Vietnamese favourites like ho and goi cuon. With dishes like 14-hour chicken breast pho and coconut shrimps as well as a rotating selection of specials, the concept will introduce Southeast Asia's richly fragrant flavors to Time Out Market Dubai.
Pickl
Pickl brings its deliciously 'simple, not basic' burgers to Time Out Market Dubai, using its own curation of sauces, pickles and the freshest ingredients from around the world. Pickl's menu includes their Chicken Sando, Cheese burger and the Beyond Burger.
Pitfire
Pitfire brings Dubai's favourite pizza to Time Out Market Dubai. Every day, Pitfire delivers delicious, fresh garlic knots and pizzas to Dubai's Time Out Market Dubai. Dough is baked for at least 48 hours, giving it a crispy, soft crust that has a lot of flavor. Pizzas arrive layered with crushed Italian tomatoes, locally-produced mozzarella and Pitfire's quality signature toppings.
Brix from 3fils
Brix offers Time Out Market Dubai diners an exceptional experience through innovative desserts. You can enjoy mould-breaking chocolate truffles as well as regionally inspired dessert bowls like karak tea cheesecake. There's also a selection of handmade truffles and bonbons you can take home.
Nightjar
Nightjar is the city's most eclectic eatery, coffee roastery and zero-alc-brewery, serves up quality craft brews and libations at Time Out Market Dubai. Nightjar has cold-brewed coffee, tea, and kombucha available on tap. They also offer nitro-infused tomfoolery as well. There are many sweet options, including the berry pancake stack or the nostalgic fish fingers buttie.
Reif Japanese Kushiyaki
Time Out Market Dubai's Reif Japanese Kushiyaki offers unusual Japanese street food. There are many options for you to choose from: uramaki (inside out) sushi rolls, kushiyaki and braised katsu beef.
Little Erth
Time Out Market Dubai is enriched with Little Erth's plant-based nutrition. This concept is all about healthy, plant-based, and natural food. All dishes are prepared from scratch by Little Erth using only fresh and high-quality ingredients. There are vegan shawarma, spring wraps, and buddha hamburger sliders on the menu.
The Mattar Farm produces local fire
Dubai's home-grown artisan smokehouse, The Mattar Farm brings their passion for smoking meats to Time Out Market Dubai with their brand-new concept Local Fire. Hattem Mattar's smokehouse specialises in handcrafted artisan smoked meats, served by the half-pound or packed into indulgent sandwiches including a pastrami reuben and brisket on potato bun. They'll also have exciting weekend specials to keep an eye out for.
Scoopi Café
Local favourite, Scoopi Café excites Dubai foodies with their spin on icy treats at Time Out Market Dubai. Scoopi's unique approach to ice creams is what makes them so popular. Scoopi uses liquid nitrogen in order to make their delicious creations smooth and buttery. Their menu also includes an assortment of ice creams, shakes, and a cotton candy burrito.
Project Chaiwala – Two Leaves
Project Chaiwala is a Dubai-based brand that launched their new concept Two Leaves at the Time Out Market Dubai. For a warm and comfortable dining experience, a range of teas can be combined with their "smashmosas", "channa bowls" and "okra fries".
Fulvio's
Fulvio's is a brand new Italian dining experience launching in Time Out Market Dubai. The concept is named after Fulvio Opalio, head chef of Orange Hospitality, which operates Il Borro Tuscan Bistro and Alici. Fulvio's signature dishes include parmesan wheel risotto, pumpkin tortelli, truffle focaccia, and grilled octopus.
Liban by Allo Beirut
Allo Beirut, an authentic Lebanese streetfood eatery launched Liban at Time Out Market Dubai. Liban has a variety of delicious and popular mezza, Saj, Shawarma, Grilled platters, and refreshing juices.
Lang Teng
Long Teng offers a concise menu of authentic and beautifully-presented dim sum and Chinese seafood dishes. Long Teng's inventive menu at Time Out Market Dubai features its signature dim sum baskets, seafood cooked in homemade sauces, and Long Teng's signature seafood fried rice.
Al Fanar
Al Fanar provides a traditional Emirati dining experience to Time Out Market Dubai diners. Al Fanar preserves recipes that have been passed down from generations. The menu offers dishes such as, sautéed black tiger prawns with slow cooked biryani rice and seabass machboos. For dessert, Al Fanar's ever-popular Legaimat – golden fried dough balls drizzled with date syrup, caramel, or chocolate is available.